Pressure washing your driveway is a great way to enhance your home.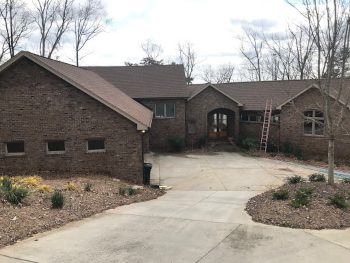 Your driveway is one of the first things people see when they view your home from the street, and a dirty driveway won't do you any favors if your want to impress visitors or your neighbors. If your driveway is in a less-than-satisfactory state, we at Elite Clean provide driveway pressure washing services that will exceed your expectations.
Our driveway pressure washing service comes with many benefits, both practical and visual. With our specialized equipment, we can blast away any dirt, debris, grime, algae, moss, mildew, mold, and other contaminants. This not only leaves you with a brighter and cleaner surface, but it also reduces the risk that someone will slip and fall as they are walking on it.
Pressure washing can even lighten or remove stains from oil that has dripped out of your car. In addition, it helps with weeds growing in the cracks. It's even quick, efficient, and cost-effective. All things considered, driveway pressure washing just makes sense to enhance your home in Winston-Salem, North Carolina.
We have been in this business for over 11 years, and during that time, we have gained valuable skills and experience. You can count on us to use our pressure washing equipment safely and take extra care with your driveway. We enjoy the satisfaction that comes after we pressure wash a driveway and see fantastic results, and we are confident that you will be satisfied as well. If you have any questions about driveway pressure washing or would like a custom quote, give us a call today.